Eleina May Crowns
Welcome to Eleina May and CO.
We specialize in custom handmade headbands, headpieces and anything timeless and unique!
Eleina May and CO creates beautiful, handmade, one of a kind headbands with the most beautiful fabrics, laces and trims for your special little one.
All pieces are handmade and can be customized to your favorite color or fabric.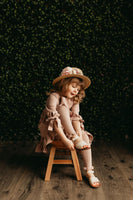 I have been counting down the days to receive these beautiful headbands and this one is my favorite. It is perfectly made and I am so looking forward to placing it on her sweet head 💗 Miracle Mila, Psalm 118:17

Ashleigh
This our most favorite halo we have ever owned!! It is stunning and beautifully made! Seller takes great pride in her craftsmanship and attention to detail. Absolutely perfect for our fairy themed photo shoot!

Nicole
This turned out better than I thought it would! Very well made and just beautiful.

alexchandler17
I've always loved your headbands for my daughter when she was younger and can't wait to share these with my niece when she arrives! Thank you!!

Allyssa
Add customer reviews and testimonials to showcase your store's happy customers.

Author's name